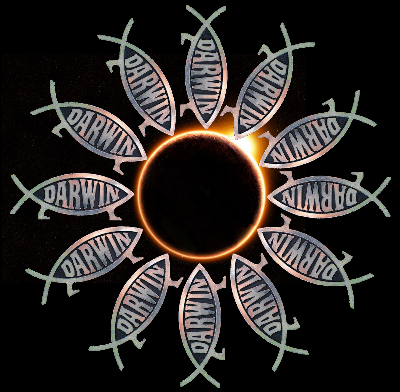 Universal Darwinism
is the idea that Darwinism is a broadly applicable theory - which applies to many systems beyond the realm of organic biology.
Darwin's theory of evolution is substrate-neutral. Darwin recognised this - and included passages to that effect in "The Descent of Man", saying that:
The survival or preservation of certain favoured words in the struggle for existence is natural selection.
The Wikipedia page on Universal Darwinism gives a long list of fields to which Darwin's theory of evolution has been applied. It ranges from the social sciences through complex adaptive systems to some much more speculative ideas - such as the idea that the universe itself evolved.
Memetics and cultural evolution represent Universal Darwinism applied to human culture.
History
The idea was first expressed in modern times by
Donald Campbell
. One of the best histories of the idea comes from Henry Plotkin's book "
Darwin Machines and the Nature of Knowledge
". He traces the idea from Darwin, Huxley, Piaget, Campbell and Popper before getting on to the topic of natural selection within the immune system and the nervous system.
Universality
Some (e.g. Geoffrey Hodgson) have questioned the "universality" of
Universal Darwinism
- saying that life is confined to our planet - and that the term "Generalised Darwinism" would be more appropriate. I think that "
Degenerative Darwinism
" - which applies Darwin's theory to fractures, ripples, crystals and other commonplace adaptive systems which are not "advanced" enough to exhibit cumulative adaptation - justifies use of the term "universal Darwinism". It does this without recourse to controversial ideas about black holes, quantum physics, or biologically-derived systems evolving systems, like culture, technology or modern computer systems.
History of the term
Richard Dawkins appears to have coined the term "Universal Darwinism" in 1983 to describe the conjecture that any possible life forms existing outside the solar system would necessarily evolve by Darwinian means.
Henry Plotkin's 1997 book "Darwin Machines and the Nature of Knowledge" had a chapter titled "Universal Darwinism". This redefined the term to refer to broader forms of evolution - specifically evolution within organisms (the immune system and learning) rather than between organisms.
Susan Blackmore, in her 1999 book The Meme Machine, also has a chapter titled "Universal Darwinism". This discusses applying Darwinism to a broad range of phenomena - including human culture.
Speculative aspects
Some applications of Darwinism are pretty speculative. The idea that the visible universe is an adaptation - by James Gardner and Lee Smolin - is one example of this. These speculative aspects of universal Darwinism should not be used to detract from those that are hard science.
Tim Tyler
I have a number of resources which relate to
Universal Darwinism
(apart from this page). See my references (below) for details.
Books
References
Aldrich , Howard E., Hodgson, Geoffrey M., Hull, David L., Knudsen, Thorbjørn, Mokyr, Joel and Vanberg, Viktor J. (2008) In defence of generalized Darwinism.
Blackmore, Susan (1999) The Meme Machine.
Campbell, John (2009) Bayesian Methods and Universal Darwinism. AIP Conf. Proc. 1193, 40, DOI:10.1063/1.3275642. 40 - 47.
Campbell, D. T. (1960) Blind variation and selective retention in creative thought as in other knowledge processes. Psychological Review, 67(6), 380–400.
Campbell, D. T. (1990) Epistemological roles for selection theory. Evolution, cognition, and realism: Studies in evolutionary epistemology, 1–19.
Cziko, Gary (1995) Without Miracles: Universal Selection Theory and the Second Darwinian Revolution (MIT Press)
Bickhard, M. H., & Campbell, D. T. (2003) Variations in variation and selection: The ubiquity of the variation-and-selective-retention ratchet in emergent organizational complexity. Foundations of Science, 8(3), 215–282.
Dawkins, R. (1983) Universal Darwinism. In: Evolution from molecules to man, ed. D. S. Bendall. Cambridge University Press.
Dennett, Daniel C. (2005) Darwin's Dangerous Idea, Touchstone Press, New York. pp. 352–360.
Gardner, James N. (2007) The Intelligent Universe: AI, ET, and the Emerging Mind of the Cosmos.
Gardner, James N. (2003) Biocosm: The New Scientific Theory of Evolution: Intelligent Life Is the Architect of the Universe.
Gontier, N. (2006) Evolutionary Epistemology. Internet Encyclopedia of Philosophy.
Hodgson, Geoffrey Martin (2005) Generalizing Darwinism to social evolution: Some early attempts. Journal of economic issues, 899–914.
Hodgson, Geoffrey Martin and Knudsen, Thorbjorn (2010) Darwin's Conjecture: The Search for General Principles of Social and Economic Evolution.
Plotkin, H. C. (1997) Darwin Machines and the Nature of Knowledge. Harvard University Press.
Plotkin, H. C. (2010) Evolutionary Worlds without End.
Pross, Addy (2011) Toward a general theory of evolution: Extending Darwinian theory to inanimate matter.
Tyler, Tim (2012) Universal selection
Tyler, Tim (2012) Universal reproduction
Tyler, Tim (2012) Tim Tyler: Kelley, The Origin of Everything (review)
Tyler, Tim (2012) Tim Tyler: Campbell, Universal Darwinism (review)
Tyler, Tim (2012) New book on Universal Selection by D. B. Kelly
Tyler, Tim (2011) Degenerative Darwinism
Tyler, Tim (2011) NanoDarwinism
Tyler, Tim (2011) Natural production and natural elimination
Tyler, Tim (2012) Positional inheritance
Tyler, Tim (2013) What are inheritance and copying?
Tyler, Tim (2013) Universal Darwinism and maximum entropy